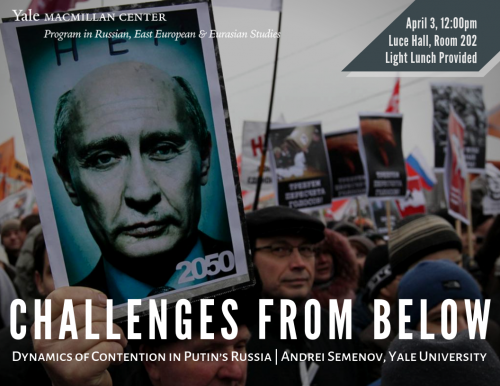 Andrei Semenov, a Visiting Lecturer with the Russian, East European & Eurasian Studies program (REEES) at the MacMillan Center, presented a public lecture entitled "Challenges from Below: Dynamics of Contention in Putin's Russia," on April 3, 2019.
Professor Semenov discussed the numerous streams of contention — from ethnic and nationalist to labor and environmental —present in modern day Russia. Drawing on a dataset comprising over 7,000 protest events that occurred in approximately 1,500 locations across Russia between 2012 and 2015, he focused on patterns of collective mobilization in Russia during the 2012-2016 electoral cycle. In general, Professor Semenov said, Russians have become increasingly disengaged with national politics since the fall of the USSR. However, he further stated that the data reveals a far more complicated picture. While there are certain environmental factors that impede mobilization in Russia, Professor Semenov said, there exists "persistent" contention at the local level that does in fact shape the dynamics of the regime.
"The picture is a little bit more complex than simply stating that Russians are disengaged," he said. "There are moments where Russians come together, get organized, express their grievances and make demands."
Professor Semenov dedicated the bulk of his presentation to an analysis of the "who, why and how" of Russian mobilization. In particular, he said, the data shows that groups formed of local neighborhood inhabitants are responsible for a sizable chunk of total protest activity.  
"The urban environment in Russia has been rapidly changing since Soviet times and citizens are constantly aggrieved because of the deterioration of living conditions and they do respond to the intrusion of the State or developers in their lives," he said.
Professor Semenov cited concerns about corruption, the quality of local services, the environment and global issues — including the situation in Crimea and attitudes toward the West — as some of the "persistent grievances" of Russian protesters.
Toward the end of his talk, Professor Semenov discussed the spatial distribution of protest activity in Russia. He noted in particular that while wealthy regions with larger population sizes can expect to see more protest activity, there are a number of outliers. 
"There are many outliers from this linear relationship where the mobilization in at least some wealthy regions seems to be under predicted," he said. "This is probably the story of some regional authorities offsetting the mobilization there with the economic resources they have."
After he concluded his presentation, Professor Semenov fielded questions from audience members. The event took place in Henry R. Luce Hall.
---
By Zainab Hamid, Timothy Dwight College, Class of 2019