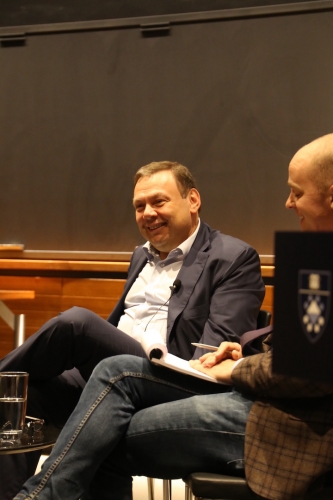 On Tuesday, October 24, the Yale School of Management and the Russian Studies Program at the Council on European Studies at the MacMillan Center hosted Mikhail Fridman, international businessman and co-founder of LetterOne (L1), the international investment business, headquartered in Luxembourg. As one of Russia's most prominent business leaders and a philanthropist, Mr. Fridman was invited to Yale to share his thoughts on "What it takes to be an entrepreneur?"
L1 has an estimated $23 billion under management and buys and builds investments internationally – in the energy, telecoms and technology, health, and retail sectors. L1 is also a passive investor in private equity funds. It most recently bought the UK retail chain Holland & Barrett from The Nature's Bounty Co. and The Carlyle Group for £1.77 Billion.
Mr. Fridman opened his talk by emphasizing that "to become a successful businessperson, the same features are needed as to succeed in any other domain in life – it is essential to be smart, well educated, and both persistent and flexible." Drawing upon his experiences with starting up businesses, he stressed that entrepreneurship relies on the skillful combining of an analytical approach with creativity, and that the key to successful endeavors is the understanding of human beings' behavior and needs.
Mr. Fridman also underlined the importance of being able to navigate uncertainties in the business environment. "You need to act vigorously in an unpredictable environment at all times. People tend to prefer certainty, but in business, you always live in times of change." Next to the "readiness to make decisions fast," he identified the willingness to fight for one's ideas as another vital component of success. Mr. Fridman recognizes that while in day-to-day life, compromises are crucial for good relations with others, but "in business, you live in a competitive world and you cannot afford to compromise if you feel that your idea is the way to make something better. You should never feel satisfied and always seek to improve it."
In a moderated discussion with Kyle Jensen, Associate Dean and Shanna and Eric Bass '05 Director of Entrepreneurship at the Yale School of Management, Mr. Fridman reflected on his modest beginnings back in the Soviet years, when as a fresh university graduate he established a window-washing business with a few friends, as Gorbachev was opening up the economy and services were collapsing. "Somehow no one had thought of this before. The market was not competitive and so I ended up earning much more than my parents did at the time." Mr. Fridman also note an unsuccessful business attempt. A cooperative he and his friends had founded to deliver goods from half-empty shops to people's homes for a small fee failed. "We thought we were responding to people's needs, yet what we did not understand about their nature was they actually preferred to stand in line for hours themselves, rather than pay someone to do so."
Despite what Mr. Fridman called "a lack of tradition of doing business" in the late Soviet Union and early Russia, he managed to grow his business activity from trading computers, photocopiers and foreign consumer goods such as perfumes and rugs, to starting up a retail bank that would provide him with working capital, to getting involved in the energy business in order to secure foreign currency needed for trading.
An active philanthropist, Mr. Fridman, who holds both Israeli and Russian passports, believes spending money purposefully can prove harder than making it in the first place. He is an active supporter of Jewish initiatives worldwide – including co-founding the Genesis Prize, which is awarded annually in Jerusalem. He also co-founded the Genesis Philanthropy Group, which develops and enhances a sense of Jewish identity among Russian-speaking Jews worldwide.
 "It is easy to get very apt people for a business project, not always so for a charity. The latter requires huge and genuine engagement, personal investment and passion, while in business it is simply money incentives that matter." Drawing on his experiences, Mr. Fridman also believes there is a need for better ways to measure welfare or the potential for innovation in a 21st century economy because GDP fails to describe and measure the human capital of a country.
Mr. Fridman also shared his views on the business environment in Russia. While he acknowledged that the economy has undergone major development for the better since his beginnings as an entrepreneur, he says it's vital that there are "clear rules and a legal environment which protect and help small enterprises grow, as well as access to initial capital they can use to develop. In Russia and many other places, there is no such framework."
When asked to give advice to students entering the business world, Mr. Fridman recalled his own beginnings as a student: "I had deep understanding of what was going on around me. I spent hours on the subway, on the streets, queuing in front of shops, I knew what people felt. I surely do not need to tell you to focus on new, disruptive technologies, but you should first and foremost understand what is happening and be able to react to it. What would your neighbors need? What could the people living around the corner make use of?" To Mr. Fridman, successful entrepreneurship requires recognizing human needs and acting on those needs: "Listen to your gut feeling, and you will make the next logical step."
---
Written by Weronika Betta, Yale College Class of 2020, Ezra Stiles College.