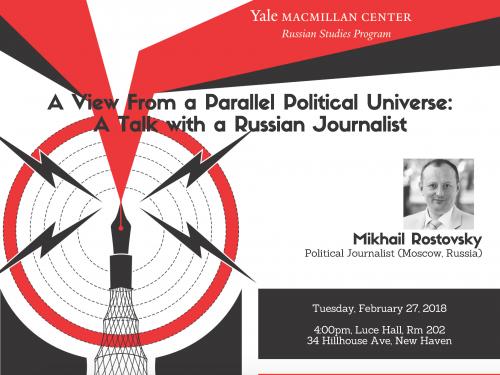 "In a physical sense, traveling from Moscow to New York is easy. In a political sense, it feels like going to a different planet," said Russian journalist Mikhail Rostovsky in a talk at Yale on February 27.
Rostovsky understands the inside workings of Russia's politics all too well. Having worked as a political journalist in Moscow's prominent private newspaper Moskovskiy Komsomolets for over two decades, he has long been following political events in Russia. In his talk, "A View from a Parallel Political Universe," Rostovsky shared his ideas about Putin's succession, provided insight into Russia's interests in Syria and Ukraine, and addressed the consequences of American sanctions. Thomas Graham, senior fellow and lecturer in European and Russian Studies at Yale, moderated the discussion.
Russia is rapidly approaching its most significant political event of the year: the presidential elections. While the incumbent will almost certainly win, the vote still raises numerous questions, one of them being the consequences of Vladimir Putin's continued rule. Russia's elections have not exactly been squeaky clean in the past, but these ones, believes Rostovsky, are bound to be. "It is Putin's last presidential term, and his job for the next six years will be to find and appoint a successor. In order to do that, he needs credibility," explained the journalist. Rostovsky is certain that, even with complete transparency, Putin will be able to reassume office due to his own popularity and the weakness of his competitors. Whereas one of them, Pavel Grudinin, has "crazy ideas" of restoring the Soviet Union, another one, Ksenia Sobchak, is "the Russian Kim Kardashian."
Rostovsky also addressed the issue of American sanctions. According to the journalist, their effect on the county's economy, while not direct, is significant. "Russia's economy is not down, but its possibilities of development are very limited. Russia lost access to financial markets and new technologies, and its pace of growth is much slower," explained Rostovsky. While not approving of his country's actions in Crimea, Rostovsky sees them as a logical reaction to "the coup d'état in Ukraine organized by America" that could potentially lead to the presence of NATO forces in Crimea. Rostovsky is confident that, in light of the peninsula's historical importance for Russians, Crimea is a closed case.
Little does Rostovsky expect to change in U.S.-Russian relations, either. "I would be surprised if we were able to agree on any major questions," confessed the journalist when discussing the prospects of bilateral cooperation. Instead, he sees China as Russia's central partner—a turn that American sanctions helped facilitate. What could be a unifying factor between Russia and the United States is, in Rostovsky's opinion, the fight against terrorism in the Middle East.
Written by Irina Bakhareva, a graduate student in the European and Russian Studies Masters program