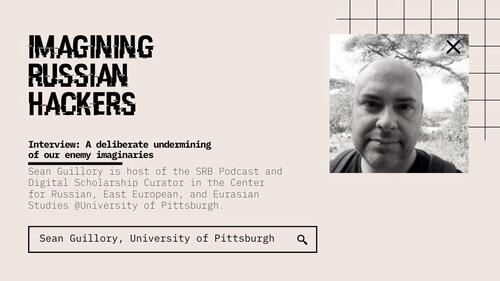 This year, Dr. Marijeta Bozovic (Yale University) and Dr. Benjamin Peters (University of Tulsa) have launched a multi-part research initiative based at Yale: "Imagining Russian Hackers: Myths of Men and Machines." The group aims to combine studies of the prehistories and traceable present of Russian and East European "hacker culture" with close readings of cultural depictions of hacker imaginaries from both sides of the (former) Cold War.  
The initiative is thrilled to announce the launch of a year-long virtual interview series on this strange and rich topic. "Russian hackers," it turns out, means something very different across a group of leading thinkers, who approach the topic from diverse perspectives and fields (history, anthropology, media theory, cultural studies, and more). A new interview will be shared every few days throughout the month, leading up to live webinar discussions in May.
In the accompanying image, we feature Sean Guillory (University of Pittsburgh) who, in his lucid interview, calls for a deliberate underdetermining of our enemy imaginaries by recognizing in our imagination of the Russian enemy the triumph and the transgression of our own culture. In addition to Sean Guillory, interviewees include:  
McKenzie Wark on the questions that are overwritten by foregrounding the Russian hacker as the "folk devil" of our time
Gabriella Coleman laying out a broader framwork for rethinking the so-called Russian hacker phenomenon
Alexandra Simonova who grounds, critically reterritorializes, and corrects misplaced media images surrounding Russian hackers
Dennis Yi Tenen who asks, "What is wrong with the term 'Russian Hackers'?"
Marielle Wijermars on the figure of Russian Hackers as persistent 'Ghosts of Christmas Past' that will not leave us alone
For full access to these exciting interview, visit the project's homepage and register via the online form, also linked here. You are also invited to save the date for the two-day symposium coming up in May: Day 1 on (Re)Imagining Russian Hackers is Thursday, May 13, 12-2 pm EDT and Day 2 on Who's Afraid of Russian Hackers? is Thursday, May 20, 12-2 pm EDT. Details and registration links are forthcoming and will be posted on the project's homepage.