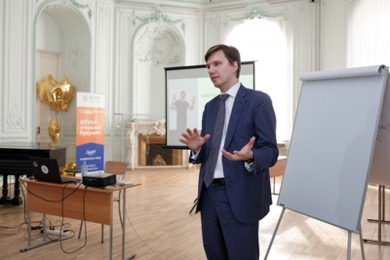 On February 10th, the Russian, East European & Eurasian Studies (REEES) Program of the MacMillan Center hosted Anton Gopka, Dean at ITMO University in Saint Petersburg, Russia and CEO and General Partner of ATEM Capital. He is welcomed by Douglas Rogers, Professor of Anthropology and Faculty Director of the REEES program, and Christina Andriotis, Program Coordinator of the European Studies Council.
During a special Lunch and Learn event, select Yale graduate students in European and Russian Studies and the Jackson Institute of Global Affairs talked with Dr. Gopka. The conversation ranged from Dr. Gopka's work at ITMO University to his opinions on the cooperation between Russia and China. Dr. Gopka discussed his enthusiasm for building globally competitive entrepreneurship programs in Russia.
Mr. Gopka also expressed a keen interest in the academics at Yale. He learned about the research that Yale graduate students are conducting, as well as the programs and events of the European Studies Council. After lunch, Mr. Gopka toured the Yale libraries. He also visited the Office of Cooperative Research and the Tsai Center for Innovative Thinking at Yale.
Biography:
As Dean at ITMO University, Mr. Gopka heads business development and technology transfer at one of the leading Russian universities in the biotech sector. In his role as CEO and General Partner at ATEM Capital, Mr. Gopka manages an evergreen US Biotech Fund - Health Square Fund. Mr. Gopka previously managed one of the largest Russia-based biotechnological venture capital funds — a strategic partnership between RUSNANO and Domain Associates. From October 2010 to April 2011, Mr. Gopka was a vice president for mergers and acquisitions at Barclays Capital, LLC, a subsidiary of Barclays PLC. Prior to Barclays Capital, from October 2008 to October 2010, he was director of mergers and acquisitions at Sistema JSFC, the largest diversified conglomerate in Russia. Prior to this, he worked at Dresdner Kleinwort Limited, an investment bank, where he advised on a number of M&A and capital markets transactions.
Mr. Gopka serves on the board of directors of many healthcare companies, including Regado BioSciences, Inc., CoDa Therapeutics, Inc., Lithera, Inc., Tragara Pharmaceuticals, Inc. and NovaDigm Therapeutics, Inc.
By Yilin Chen, Timothy Dwight College, Class of 2023