Past Conferences
November 4-5, 2016 - Contemporary Russian Politics Beyond the Kremlin
"Russian Politics Beyond the Kremlin" challenges the recent tendency in the West–visible in both scholarly and popular discourse–to narrow the scope of Russian politics to the Kremlin (and even, in many cases, to the person of the President). Over the course of two days, contributions from scholars based in Russia, Europe, and the United States will explore various dimensions of a much more complex and multidimensional political field in Russia. Topics to be covered include: aesthetics and cultural politics; gender; historical memory; media; protests and social movements; regional and local politics; and ethnicity and nationalism. Although participants hail from a variety of disciplinary backgrounds–from anthropology to sociology to political science and beyond–they share a commitment to ground-level research methods and to innovative social, cultural, and/or political analysis.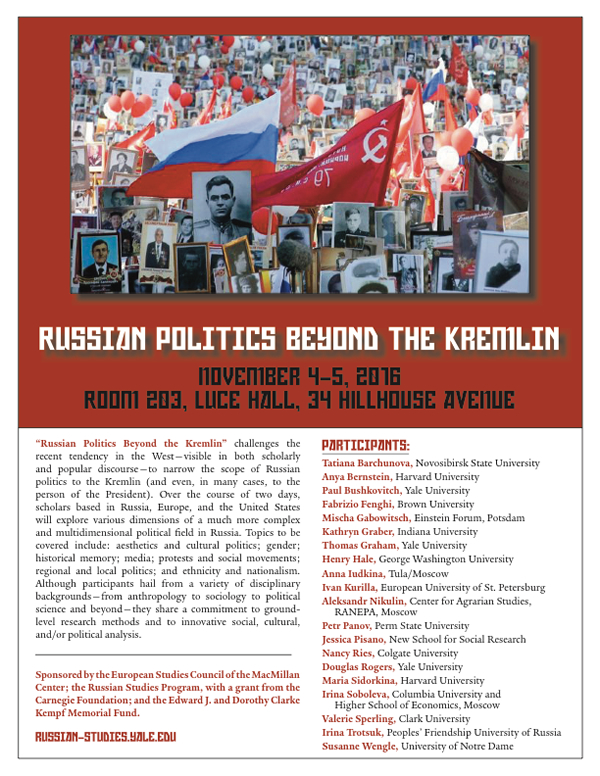 September 30-October 1, 2016 - The Russian Century: The Literary, Visual, and Performing Arts, 1801-1917
Since 1991, the classical Russian literature of the nineteenth century has gone through both eclipse and revival. Modernist and post-modernist accounts of Russian culture that came to the fore in the late 1980s have begun to give way to a reinterpretation of the nineteenth century, one that adds to the Russian classics a wider perspective encompassing music, visual arts, and theater and new methodologies. This process is only beginning and requires a united effort of scholars to succeed.
Inspired by this renewed interest in the nineteenth century and the general shift toward destabilizing disciplinary and historiographic borders, this conference, under the guidance of Molly Brunson, Associate Professor of Slavic Languages and Literatures, will bring together prominent senior scholars and emerging junior scholars from Russia, Europe, and the U.S., and from a wide range of fields (language and literature, musicology, art and architecture history, performance studies and drama history). Roughly fifteen to twenty speakers will be invited, with the intention of maximizing dialogue between Russian specialists and their American and European counterparts, and creating potential for conversation and collaboration among an international collective of historians of the arts in its broadest sense. The conference will take place over two days in early Fall 2016, with a keynote speaker and five panels (of three speakers each). Depending on the final list of participants, the conference will either be bilingual (possibly with a translator) or in English only.
April 8-9, 2016 - Cold War Narratives 

Reimagined
Yale University, W. L. Harkness
 Hall, Room 120
Keynote speaker: Lilya Kaganovsky, Associate Professor of Slavic, Comparative Literature, and Film at University of Illinois, Urbana-Champaign.
The Department of Slavic Languages and Literatures at Yale University invites you to Cold War Narratives Reimagined, an interdisciplinary graduate conference on April 8-9, 2016.
More than twenty-five years after the end of the Cold War, scholars are able to refocus, recast, and reevaluate the discussions centered on this period of global tension, military non-conflict and cultural polarization. Whether within the United States or in the international arena, it is typified by physical and imagined borders, walls, spheres of influence, and missile gaps. This conference will seek to engage with these physical and symbolic spaces, to challenge the East-West dichotomy in Cold War narratives, and to examine what happens after these zones and margins dissolve. "Cold War Narratives Reimagined" is an interdisciplinary conference that centers on the intellectual, cultural, and environmental legacies of the Cold War era in the United States and in the former Soviet Union, both those of its immediate aftermath and of contemporary reframings of these legacies.
Sponsored by the Department of Slavic Languages and Literatures, the Russian Studies at Yale Program, the European Studies Council, the Department of Comparative Literature, the Yale Slavic Colloquium, the Whitney Humanities Center Working Group on Interdisciplinarity in Slavic Studies, the Yale Slavic Film Colloquium.
FRIDAY, APRIL 8
Noon — Registration, Welcome
1:00 – 2:30  Panel One: Sounds of the Cold War 
Andrew Vielkind (Yale): "Acoustical Intermittence: Sputnik's Chirp and the Democratization of Listening"
Tony Lin (Connecticut College): "An American Sputnik? The International Tchaikovsky Competition in the Context of the Cold War"
Pawel Koscielny (Berkeley): "Losing The War in The Ether; Radio Free Europe's Failure in The Cultural Cold War with Poland"
3:00 – 4:00   Object Session with the materials from the Beinecke Rare Book & Manuscript Library
Led by Kevin Repp, Curator for Modern European Books and Manuscripts, Beinecke Rare Book & Manuscript Library
4:30 – 6:00   Keynote
Lilya Kaganovsky, Associate Professor, Department of Slavic Languages and Literatures, Director of the Program in Comparative & World Literature, University of Illinois at Urbana-Champaign
6:30 – 8:00   Reception
(Comparative Literature Department, 451 College Street)
SATURDAY, APRIL 9
10:00 – 11:30   Panel Two: Modernity, Modernism, and State Socialism
Masha Panteleyeva (Princeton): "The Form of Socialism: NER and the Architectural "Syntax" During the Thaw"
Adrienn Kacsor (Northwestern): "Cold War Abstractions: Non-Figurative Art in State Socialist Hungary"
Jennie Scholick (UCLA): "'A Different Faun and a Different Nymph'": The Lavender Scare and Jerome Robbins's Afternoon of a Faun"
11:45 – 1:15   Panel Three: Beyond Containment 
Robynne Mellor (Georgetown): "The Cold War's Underground Front: Environmental and Health Effects of Uranium Mining in the United States and the Soviet Union, 1955-1975"
Dominick Lawton (Berkeley): "S/D: Sinyavsky and Daniel' as Martyrs of Metafiction" 
Serhii Tereshchenko (Columbia): "Building Utopia: Kyiv's Rusanivka (1961-1974)"
2:30 – 4:00   Panel Four: Space Race/Arms Race 
Amanda Lerner (Yale): "Vying for Space in Space: Ownership of the Universe in Soviet and American Science Fiction "
Cameron Winter (North Carolina State): "'Rubbish! We're Living in the Space Age': Flannery O'Connor's 'The Lame Shall Enter First' and the Conflict of Cold War American Nationalism" Ingrid Ockert (Princeton): "Of Man and Memoir: The Construction of David Lilienthal's Cold War Identity"
4:15 – 5:45   Roundtable discussion followed by a reception 
(Hall of Graduate Studies, Room 401, 320 York Street)
---
April 8-9 2016 - Red on Red: A Symposium on Post-Socialist Art and Critical Theory
Hosted by the department of Comparative Literature and Yale University
Friday, April 8 [all events in the Comparative Literature Library, Bingham Hall]
9:30-10:00 — pastries and coffee
10:00-11:00 — Keynote 1: Aaron Bady, "'Angola Starts Now': Novel Time in New Angola" with a response from Marijeta Bozovic (Yale University)
11:00-12:30 — Panel 1: Cartographies of the Left
Sara Blaylock (UC Santa Cruz), "DIY Public Sphere: East Germany's Homespun Publications"
Ludmila Janion (Uniwersytet Warszawski), "Better Trans than Queer (or Feminist): Conceptualizing Gender Variance in the 1990s in Poland"
Discussant: Marci Shore (Yale University)
12:30-2:30 — lunch
2:30-3:30 — Keynote 2: Michaela Bronstein (MIT), "The Author and the Assassin: The Novel as Act of Terror in Coetzee and Brink," with a response from Ruth Yeazell (Yale University)
3:30-5:00 — Panel 2: Art (as) Critique Now
Dmitry Golynko, "'New Thingness' and Materiality of Trauma in Post-Socialist Art: A Brief Inquiry"
Justyna Wierzchowska (Uniwersytet Warszawski), "Symptomatic Borders: Interrogating Polishness in Joanna Rajkowska's Post-1989 Public Projects"
Daniil Leiderman (Princeton University), "Zombies, Mutants, Plague—Utopia!"
Discussant: Julia Chan (Yale University)
5:00-6:00 — Keynote 3: Magali Armillas-Tiseyra (Penn State University), "From Below: Insurgent Globalism(s) at the Start of the Twenty-First Century," with a response by Ayesha Ramachandran
6:30-8:00 — Artist talk and poetry reading: Gluklya / Natalia Pershina-Yakimanskaya and Roman Osminkin
8:00-9:00 — catered reception
---
Saturday, April 9  [most events in the Comparative Literature Library, Bingham Hall]
10:30-11:00 — pastries and coffee
11:00-12:30 — Panel 3: Russian Red
Dorine Schellens (Albert-Ludwigs-Universität Freiburg), "'Painting the Town Red': St. Petersburg as a Dynamic Palimpsest in the Work of The Laboratory for Poetic Action"
Matthew Whitley (Cicada Press), "These People Live Here – Conceptualism and the New Documentary Poetics"
David Hock (Princeton University), "The Art of Truth: Post-Conceptualist Poetry under Putinism"
Jason Cieply (Stanford University), "The Poetics of Engagement: Revolutionary Affect and Collective Subjectivity in Roman Osminkin's Techno-Poetry"
Discussant: Michael Weinstein (Harvard University)
12:30-1:30 — Keynote 4: Ya-Wen Lei (Harvard University), "Contesting Legality in Authoritarian Contexts: Food Safety, Rule of Law and China's Networked Public Sphere," with a response by Marta Figlerowicz (Yale University)
1:30-3:00 — lunch
3:00-4:00 — Keynote 5: Snehal Shingavi (UT Austin), "The Communist Debates in India: the Congress Socialists, the Communists, and the Hindustan Republican Army" with a response from Inderpal Grewal (Yale University)
4:00-5:30 — Panel 4: Left Southeast
Iulia Statica (La Sapienza University of Rome), "Re-colonizing Space: Symbol and Irony in the Post-communist Topography of Bucharest"
Tamara Vukov (Université de Montreal), "Aesthetic and Sociopolitical Dilemmas in the Tranzicija/Transition project"
Nikola Dedić (University of Belgrade) and Karla Lebhaft (University of Zadar), "Red on Pink:  Recognizing the 'Critical Moment of Aesthetic Experience'" in Post-Yugoslavia"
Discussant: Andrew March (Yale University)
5:30-7:00 — closing reception hosted by the Slavic Department graduate program [Hall of Graduate Studies 411]
April 24-25, 2015 - Inaugural conference: Rethinking Early Modern Russia
A conference planned for April 24-25, 2015 is being organized by Paul Bushkovitch, Reuben Post Halleck Prof of History. The conference is intended as the first stage of a larger project on the same theme, the purpose being to set the agenda and bring it to the attention of colleagues. The early modern era (1500-1800) was the time when Russia changed from a marginal state on the northeast fringe of Europe to a major power, and understanding that era will have a major impact on the conception of Russian history through the present day. Obviously reconceptualizing the history of those centuries will also have a considerable impact on teaching. 
The study of Russian history has changed a lot since the 1980's, to some extent by the appearance of new ideas and paradigms, but also by an enormous if uneven empirical revolution.
The period most affected by the empirical revolution is the early modern era and it has not been accompanied by much rethinking.  The period continues to be seen as a period of stagnation interrupted by the reforms of Peter the Great.  That is a scheme inherited from the nineteenth century, and it is time to reconsider the speed and character of change in those centuries.  To give only one example, the population (within constant boundaries) increased by some five to six times over three hundred years, a rate of increase unparalleled in Europe and most of Asia. These were centuries of massive cultural change as well. The conference will bring together a group of historians, social scientists, art historians, and others to think about a strategy for researching and rethinking these centuries.
All sessions will be held in Henry R. Luce Hall, 34 Hillhouse Avenue.
The conference is sponsored by Renova Group, the Edward J. and Dorothy Clarke Kempf Fund, and the European Studies Council, with a Title VI NRC grant from the US Department of Education.