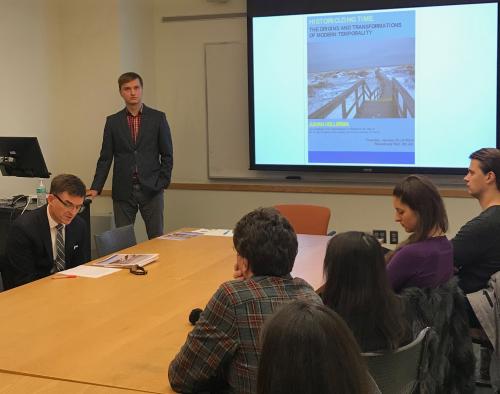 Juhan Hellerma, Fall 2018 Juris Pages Visiting Assistant in Research at the Baltic Studies Program of the MacMillan Center, spoke about the modern notion of time and how it is being challenged at a lecture titled, "Historicizing Time: the origins and transformations of modern temporality," on Thursday, January 24.
During his lecture, Mr. Hellerma discussed the works of two main groups of authors. According to Mr. Hellerma, the first group, including the likes of Reinhart Koselleck and Achim Landwehr, is concerned with the origins of the modern notion of time. Meanwhile, the second group, including authors such as Hans Ulrich Gumbrecht and François Hartog, is interested in shifts and modifications happening in our present moment.
"Koselleck famously argues that semantical shifts occurring roughly between 1750 and 1850 testify to the breakthrough of a dynamic vision of history, that establishes the future as an open ended horizon of possibilities, while setting it distinctly apart from the past, which comes to be regarded as increasingly superseded," Mr. Hellerma said.
To further elucidate his point, Mr. Hellerma added, Koselleck deploys two anthropological categories, namely "space of experience" and "horizon of expectations," arguing that with modernity, expectations toward the future were increasingly detached from everything experience had to offer.
According to Mr. Hellerma, while Koselleck bases his work on shifts occurring in the 18th to 19th centuries, Landwehr places the temporal shift toward modernity in the 17th century specifically. Additionally, whereas Koselleck focuses on the future as a space of expectation, Landwehr makes the present his primary category of investigation.
After concluding his discussion on the origins of modern temporality, Mr. Hellerma delved into the question of how modern temporal experience unfolds, focusing on the second group of authors outlined at the outset of the lecture.
"According to Gumbrecht, it is the early twenty first century when the modern temporality… is overshadowed by [an] attitude he labels the 'broad present,'" Mr. Hellerma said.
Gumbrecht's interpretation, Mr. Hellerma added, seeks to collapse the difference between the present and what is inherited from the past.
The last author discussed was François Hartog, who, according to Mr. Hellerma, deploys the concept of "regimes of historicity" to capture the changing nature of temporal attitudes.
"[Hartog] has argued that since the end of the twentieth century in western societies, presentism as a mode of thinking and experience has overshadowed future oriented attitudes," Mr. Hellerma said.
After concluding his lecture, Mr. Hellerma fielded questions from audience members. The event was held in Rosenkranz Hall.
---
By Zainab Hamid