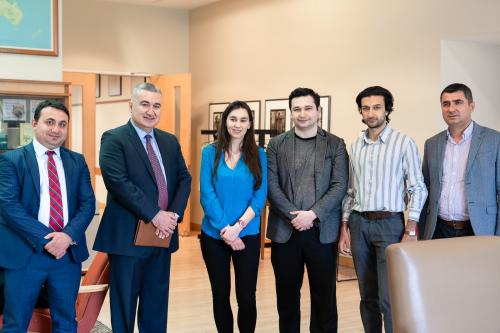 The Russian, East European & Eurasian Studies Program of the MacMillan Center hosted H.E. Elin Suleymanov, the Ambassador of the Republic of Azerbaijan to the United States, for a public address on Thursday April 25, 2019.
During his address, Mr. Suleymanov spoke about the strategic role of Azerbaijan as the "northern most region of the Middle East and the farthest down point of Europe." He noted that the country's unique geography places it at a strategically important crossroads.
"Azerbaijan is a nerve point of the duality of Eurasia," the Ambassador said.
The Ambassador also spoke about Azerbaijan's efforts to connect continents and cultures, saying that at the beginning of the country's independence, a conscious decision was made that "Azerbaijan cannot and should not succeed on its own." In particular, Ambassador Suleymanov made note of the Iron Silk Road in Azerbaijan, which shortens the route between China and Europe by 4400 miles, and the country's Alat port, the largest sea port and free-trade zone in the Caspian Sea. Ambassador. Suleymanov also mentioned that Azerbaijan is becoming an increasingly popular air transit point, with six international airports.
With regard to energy connectivity and security, the Ambassador said that Azerbaijan was the first country to open the Caspian Sea to Western markets with the Baku-Tbilisi-Jeyhan oil and Baku-Tbilisi-Eruzurum gas pipelines.
"The success of the region is our success," Mr. Suleymanov said.
Toward the end of his address, Mr. Suleymanov discussed Armenian-Azerbaijani relations, which have long been fraught due to the ongoing Nagorno-Karabakh conflict, a territorial and ethnic conflict between Armenia and Azerbaijan over the region of Nagorno-Karabakh, internationally recognized as de jure part of Azerbaijan. Ambassador Suleymanov described the conflict as an "intractable threat to regional development" and, unfortunately, an "inseparable part" of what often happens in post-Soviet space.
After concluding his address, the Ambassador fielded questions from audience members, who asked about issues ranging from the country's plans for a post-fossil fuel future to tensions with Armenia. With regard to the latter, the Ambassador stressed the need to look to the future.
Mr. Suleymanov was appointed the Ambassador of the Republic of Azerbaijan to the United States in October 2011.
---
By Zainab Hamid, Timothy Dwight College, Class of 2019