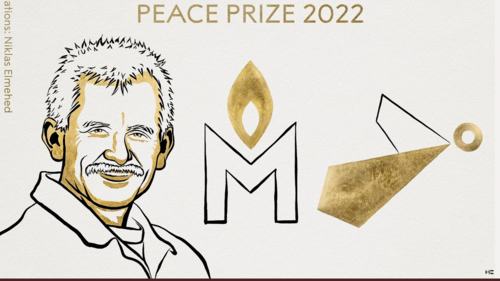 The Nobel Peace Prize was awarded to human rights activists from Ukraine, Belarus, and Russia last week. The laureates - the Center for Civil Liberties, Ukrainian organizations; Ales Bialiatski, a jailed Belarusian activist; and Memorialm, a Russian organization - have emerged as some of the most formidable opponents of the widespread misinformation and harmful myths propagated by authoritarian leaders. 
Varya Andreeva, Anna Kharitonova, and Marina Polyakova, are three Non-Residential Fellows from the Nobel Peace Prize-winning organization Memorial at the Fortunoff Video Archive for Holocaust Testimonies, are currently transcribing the testimonies in Russian.
In March 2022, Yevhenii Monastyrskyi, graduate student in European and Russian Studies, represented Ukraine at meetings with UN leaders and permanent representatives of UN Security Council member states alongside Oleksandra Matviychuk, director of the Ukrainian organization Center for Civic Liberties that won the Nobel Peace Prize, and two other representatives of Ukrainian civil society.