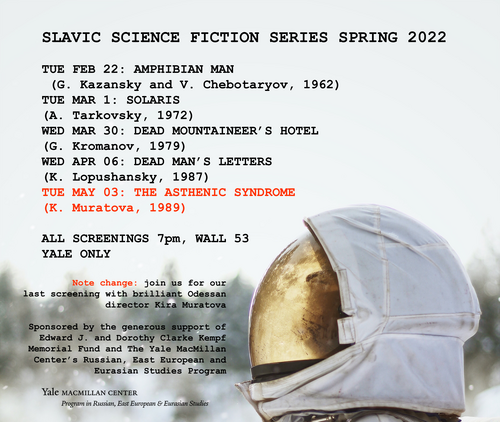 As Covid-19 continues to wreak havoc on loftily laid university plans, we seek to imagine new futures where life is possible no matter the circumstances. Here at Yale Slavic, we wondered how we could expand traditional geographic and disciplinary bounds of our regional studies, proving their significance to world proceedings, and simultaneously provide fertile ground for new perspectives to help cope with our ongoing pandemic realities. The answer – to utilize the veritable treasure trove of wild and imaginary worlds concocted by the Soviets. We hope to establish the Slavic relevance for the genre of Science Fiction at large, and hold space to reflect on our own possible futures as we look at humans who not so long ago imagined theirs.
Sponsored by the generous support of the Edward J. and Dorothy Clarke Kempf Memorial Fund and the MacMillan Center's European Studies Council and the Program on Russian, East European, and Eurasian Studies  All films will be followed by a brief presentation and an audience Q&A.  
February 22, Amphibian Man 
March 1, Solaris 
March 29, Dead Mountaineer's Hotel* location change to Loria Rm 351 (190 York St.)
April 6, Dead Man's Letters
April 20, Zerograd Cancelled
May 3, Aesthenic Syndrome
Please register to attend the screenings: https://bit.ly/EventRegistration-REEESFilm
All are in-person screenings at 7pm & in the Auditorium, 53 Wall Street, New Haven- except noted otherwise above.