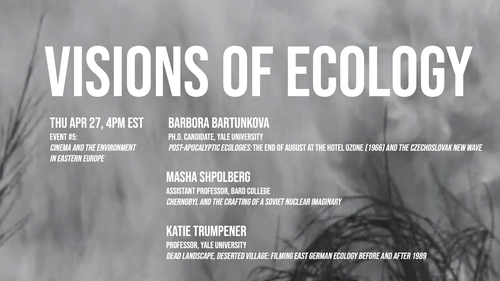 Visions of Ecology is a year-long series on art and the environment in Eastern Europe and Eurasia supported by the Russian, East European, and Eurasian Studies (REEES) program at the MacMillan Center for International and Area Studies at Yale University. The series is convened by Molly Brunson, Associate Professor in Slavic Languages and Literatures and History of Art, who also serves as Faculty Director of REEES. The series is co-organized by Barbora Bartunkova, PhD Candidate in History of Art, and Elena Adasheva-Klein, PhD Candidate in Sociocultural Anthropology.
For the fifth and final event in the series on April 27, 2023, a panel of art historians and media scholars discussed interconnections between cinema and the enviroment in Eastern Europe.  The panel inlcuded Katie Trumpener, Emily Sanford Professor of Comparative Literature and English at Yale; Masha Shpolberg, Assistant Professor of Film and Electronic Arts at Bard College; and Barbora Bartunkova, Ph.D. Candidate in the History of Art at Yale University and the 2022–23 Chester Dale Fellow at the National Gallery of Art's Center for Advanced Study in the Visual Arts. Recently, Masha and Barbora contributed to the collection titled, Cinema and the Environment in Eastern Europe, eds. Masha Shpolberg and Lukas Brasiskis (Berghahn Books, forthcoming October 2023). 
Barbora Bartunkova opened the panel with a talk titled, 
"Post-Apocalyptic Ecologies: The End of August at the Hotel Ozone (1966) and the Czechoslovak New Wave." 
The End of August at the Hotel Ozone (1966), a post-apocalyptic film directed by Jan Schmidt and written by Pavel Juráček, follows a group of women in the aftermath of nuclear war, as they navigate desolate landscapes and ruined spaces of civilization in search of other survivors. This talk departed from the established interpretation of the film as a political allegory and instead foregrounded the central question of how human subjects engage with the natural environment in a radically transformed world. When considered in relation to the few films of the Czechoslovak New Wave that touch on nuclear themes, Hotel Ozone offers perhaps the most extended meditation on environmental conditions in the post-nuclear age. While mainly preoccupied with the issue of humanity's survival, the film's conclusion suggests a decentering of human subjectivity, opening onto new possibilities for reimagining planetary life. Hotel Ozone, 
Barbora
 argued, takes the anxieties around Cold War nuclear struggle as a point of departure for a deeper investigation of the relationship between human and nonhuman life, making a unique contribution to twentieth-century cinema.
Katie Trumpener presented a talk titled, 
"Dead Landscape, Deserted Village: Filming East German Ecology Before and After 1989."  
East Germany's final decade saw the rise of a new eco-movement, notable in its attempts to link natural and architectural preservation. Although secret police tried to subvert this movement, they could not prevent several surreptitious guerrilla films documenting the country's devastating ecological conditions. This talk contrasted these unofficial films first with one of 1980's few officially-sanctioned eco-films, then with two key post-1989 eco-documentaries.
Masha Shpolberg concluded panel presenations with a talk titled, 
"Chernobyl and the Crafting of a Soviet Nuclear Imaginary." 
The Chernobyl disaster was famously censored. The Soviet government initially refused to acknowledge that it had taken place, then refused to acknowledge its scale. What was challenging for reporters, documentarians, and artists once they finally were allowed to reflect on it in their work was not only censorship from above but the lack of any kind of representational tradition from below. Unlike the U.S., where images of nuclear war and post-apocalyptic landscapes abounded, Soviet art and culture rarely acknowledged the nuclear threat. As historian Miriam Dobson puts it, nuclear war and disaster were "antithetical to the forward-looking spirit of the communist project." This talk examined the few instances in which anxieties about the possibility of nuclear war or disaster were able to break through in both Soviet and Soviet bloc cinemas, thus tracing a visual pre-history of the Chernobyl disaster. Masha then concluded by showing how two documentaries produced in the immediate wake of the clean-up efforts determined much of the iconography that had been used to describe and discuss the disaster ever since.
During the discussion period, the panelists explored a number of questions about the environmental conditions of film production in military and ecological disaster zones, censorship, the dynamics between documentary and fiction storytelling in films, and more.
Watch video recording on the Yale European Studies Council YouTube chanel.